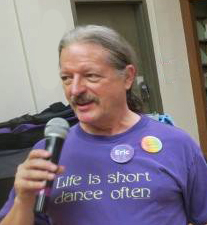 In all, I've been calling for nearly four decades, beginning in 1983. In that time, I've also written several dozen dances, some of which have entered the repertoire, and have called dances in all 50 US states and several other countries. In 1992 I taught and called contradances (in Russian) on tour with dancers and musicians in Russia and the Ukraine; have taught and called contradances and New England square dances in England, Scotland, Germany, Denmark and Sweden, and have taught and called contradances and Modern Western Square dances in Tokyo, Japan.
Calling for first-time dancers is a specialty!
Contradancing and square dancing with exciting live music is a great activity for weddings, private parties, company events, rafting trips (yes, really!), almost any kind of get-together. I've done many such events, and have taught several thousands of first-time dancers who all had a great time at a fondly memorable event. Many left the event finding themselves hooked on a good way to have fun, and are now among our regular dance crowd.
I am available for booking, and can arrange for some of our best and favorite local Bay Area dance bands to play at your event. Or, if you already have musicians lined up, I can work with them. Contact me at eric@eric-black.com to discuss.
Photo courtesy
Doug Plummer