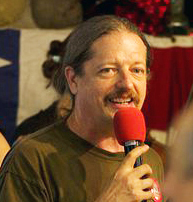 Photo courtesy Doug Plummer
About Calling
I began folk dancing and contra/square dancing while attending MIT in the early 1970's, and after graduating I was a rare (for the time) "Dance Gypsy" in New Hampshire and Massachusetts. When I moved to California in 1981, I found that the New England dancing I enjoyed was not being called in San Francisco — the contradances were "California style". That's why I started calling dances in 1982, but it meant I wasn't dancing...
And now my calling style is much more California than New England, with a little Southern and a smidgeon (oops! — I mean すこし) of Tokyo thrown in. Shoganai!
In 1983 I took over the Palo Alto Contradance at Stanford, started by Nick Harris in 1975, and then run by Brad Foster. In 1982 Brad moved to New England as the new Director of the Country Dance and Song Society and Susan Murphy took over the dance. In 1982 I founded the BACDS Berkeley Wednesday contra dance, sharing calling with Harry Brauser for the first several dances. In 1983, Susan went off to veterinary school, and I inherited the Palo Alto dance. Then Harry moved to San Diego, and I was running, programming, and the primary caller for 2 Bay Area contra dances. Fortunately, in 1985 Ruth Lowengart took over the Berkeley dance, and I concentrated on the Palo Alto contra. That bi-weekly Palo Alto dance series is celebrating a history of 45+ years, which I believe makes it the longest continuously running contradance series in California. I was the programmer and main caller there for nearly 30 years of that long and continuing run.
The Palo Alto Contra is now run by two committees, one doing the programming/bookings, and one running the evening dances.
About Dance Choreography
Since 1982 I've written several dozen dances, some of which have entered the repertoire. Here's a partial list. I'm pleased to have you call them!
About Tune Composition
In March 2015 the Muse started whispering (singing?) into my ear, and tunes have been pouring out (more than 300 as of the end of January 2019). Please have a listen, and feel free to share them with your musician friends. Play them at dances!